Quick Start
Use the Ad Hoc Transfer Plug-in for Outlook and begin transferring secure messages and files (in just a minute).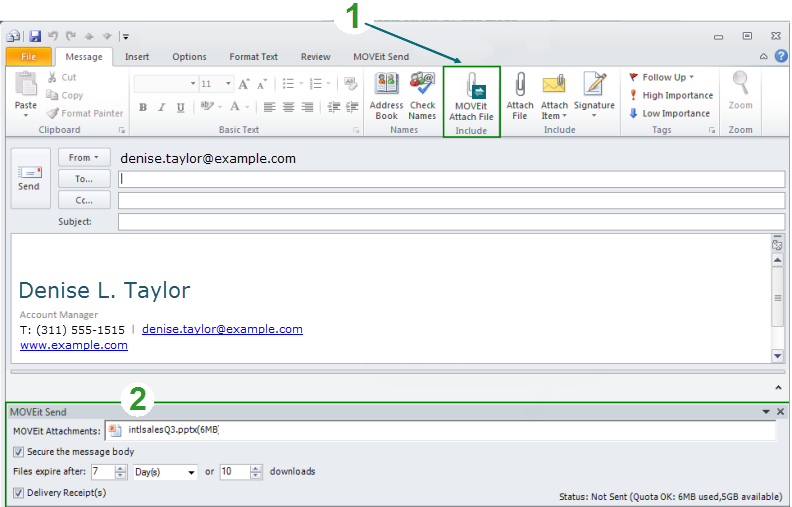 1

Attach a file.

Click to send a file MOVEit will secure and share with only the intended recipients.

MOVEit Send form displays at the bottom of the Outlook window.

2

Configure MOVEit Send form.

. When selected, the message body will be included securely in the package (for download and opening only by intended message recipients).
Depending on the business value (or data compliance policy that might govern this information), it is best practice to include a date of expiry. (Not defining this expiry is a tradeoff of security versus convenience and should be weighed carefully against your site/organizational requirements.)
. Notify me when the my packages are received.

Send it!

Write your email, include your recipients, and send the email (as you normally would) through Outlook.

Ad Hoc Transfer Plug-in for Outlook hosts your message and attachments from MOVEit.
Recipients receive an email notification and a link to this content.

You can view the options set for the secure transfer you just sent —including the password required for unregistered recipients to view the attachments. For more information, see Viewing Sent Secure Transfers.
After successful install, the tab enables you to edit you MOVEit Send options, switch to the standard mail message mode, and access the MOVEit Plug-in Help.