Getting started with WhatsConnected
To start WhatsConnected:
From the WhatsUp Gold console, click . WhatsConnected starts.
When you start the WhatsConnected application, the WhatsConnected Startup dialog helps you begin using the WhatsConnected application.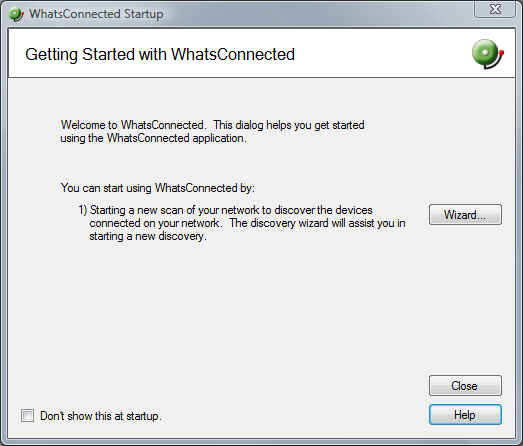 There are two Getting Started options to help you begin gathering and viewing Layer 2 network information:
Start a new network scan to discover devices connected on the network. Click to start the Wizard discovery process.
If you have saved WhatsConnected discovery files previously, you can select an existing discovery file in the list, then click .
Click to prevent this dialog from appearing each time you start WhatsConnected.
For more information about other methods to do network discovery, see About Layer 2 Network Discovery.