About Device List View
Device List View is a spreadsheet-like view that helps you organize, filter, and find network devices and data.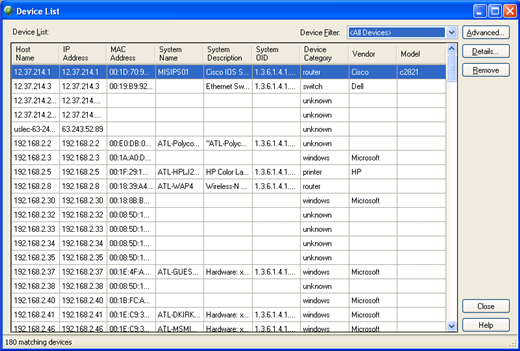 You can filter data displayed in the view by using the Device Filter and Advanced features.
Data displayed in this view can be filtered, edited by device category, shown in device categories, removed, printed, print previewed, or saved to a comma-separated-value (CSV) file for use in Microsoft Excel or other reporting applications. For more information, see About data grid views.
: You can double-click any device in the Device List view. The Device Details tab view opens with more details about the device.
To view Device List:
From the main menu of the WhatsConnected console, select . The Device List view appears.

: You can also view device list from the WhatsConnected console shortcut menu. Click (Device List shortcut icon). The Device List dialog appears.
To view Device Details:
With the device list open, double-click a device in the list. The Device Details appear. For more information, see About Device Details tab view.