v2019.2 (19.2)
What's New in WhatsUp Gold
We're excited to announce the following features and enhancements implemented in the latest version of WhatsUp Gold.
IT Network Administrators like yourselves helped choose many of the features that went into this release. We always want to hear from you to improve and make WhatsUp Gold your "one-stop" solution for network management. Make sure to join and participate in the Ipswitch Community to provide feedback on future releases, or consider joining our beta program by contacting our support team.
Device Utilization Summary report
This new report allows you to display memory, CPU, disk, and interface performance data for a selected device in a single view. It can be presented as a full-page report accessible by selecting ANALYZE > Device > Device Utilization Summary or added to a custom dashboard view.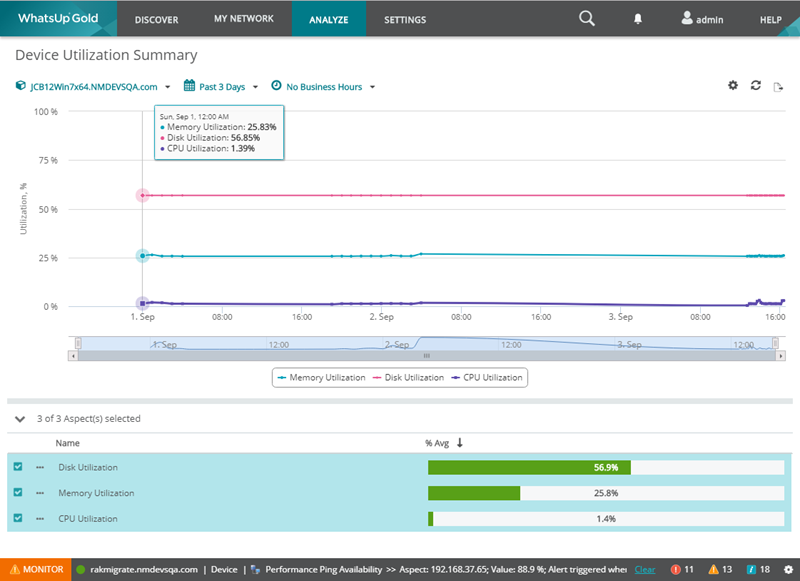 Top Conversations between Cities and Top Cities report
These new reports display a ranked list of the top n network traffic conversations between cities and the top n traffic cities. The highest ranked "talkers" and their locations are plotted on a world map. You can hover over the conversation line to see a connection/traffic summary. To see a detailed or even exhaustive list, increase the value of n in Report Settings (

). (Note, this report is available to users licensed for Network Traffic Analysis.)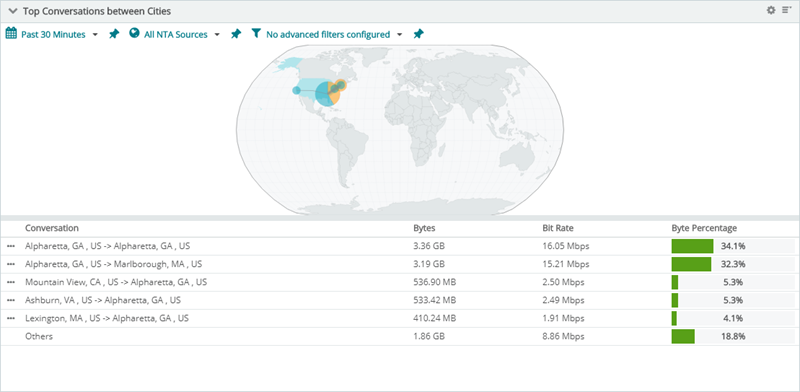 World Map Chart Type Now Extends Report Settings
Many WhatsUp Gold reports that deal with locations and any Network Traffic Analyzer reports that leverage NTA IP Groups now benefit from a world map in Chart Settings. (NTA IP Groups are traffic groups that bundle subnets or address ranges for rapid viewing and analysis.) Note: World Maps that show conversations also reveal traffic volume using lines of varying thickness between sender and receiver.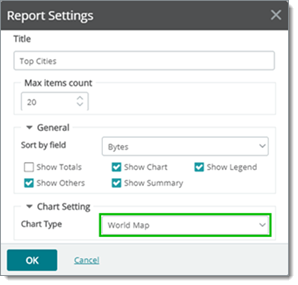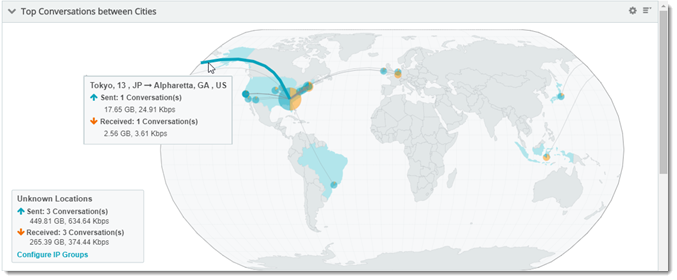 Cloud Components for Application Monitoring
New application components have been added to WhatsUp Gold which allow you to select, poll, and create alerting thresholds for Microsoft Azure and Amazon Web Services performance metrics.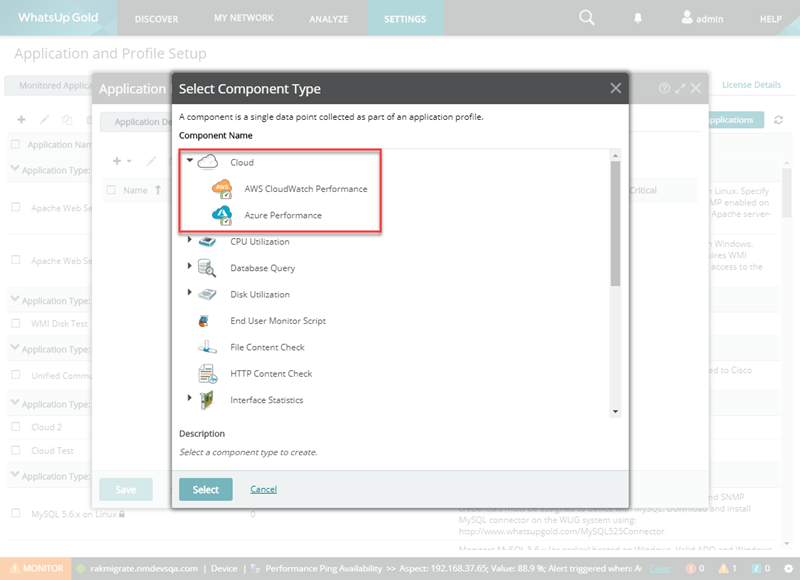 Also new in this version
Active monitor reports now include a Start Time column for monitor state and duration of that state.

The Device Properties interface now includes a tab dedicated to Group membership which allows you to add the device to or remove a device from a group without exiting the dialog.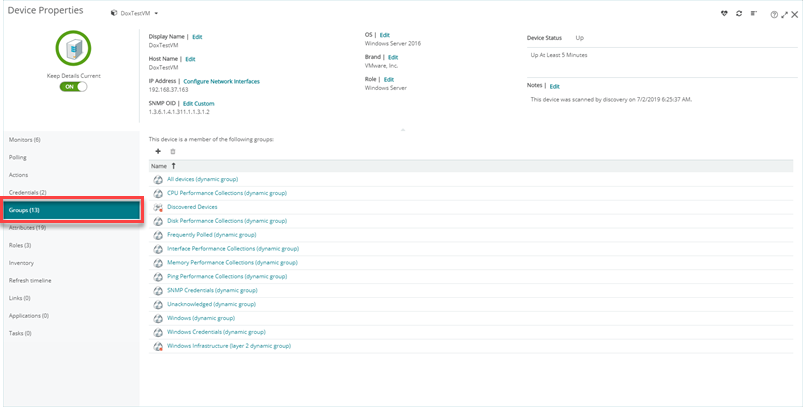 Device state now reports as Down when a critical active monitor goes down.
Updated and improved
We're committed to building the best in class software for network and application monitoring. See a problem, or an area in need of improvement? Participate and post your suggestions in the Ipswitch community. We're listening.
Feature Area
Item
Details
User Interface

FLM-4288

Improved

The method by which WhatsUp Gold handles data rollup has been updated to improve report data accuracy.

Network Traffic Analysis

FLM-4317

Improved

The NTA Settings dialog has been updated to improve usability.

Configuration Management

WCF-974

Fixed

Device records are now fully removed from the configtaskchangelog table when corresponding devices are removed from WhatsUp Gold.

Configuration Management

WCF-1089

Fixed

'USER'-type scripts are no longer removed from the Configuration Management System Script Library following WhatsUp Gold upgrade.

Monitors

WUG-33940

Fixed

WMI monitors no longer fail/deny access following reboot.

User Interface

WUG-35392

Fixed

Duplicate attributes are no longer allowed to ensure right-click and device management action menus function properly.

User Interface

WUG-35858

Improved

Enhanced the Active Monitor States (Remote) report to provide customers using Distributed installations with a single view for monitoring all remote sites for active monitor states.

Maps

WUG-36719

Fixed

Links between monitored Nexus devices and connected devices now display properly on the WhatsUp Gold map view.

Discovery

WUG-38044

Fixed

WhatsUp Gold now successfully gathers attributes defined in the roles or inventory from certain devices discovered using SNMP credentials.

User Interface

WUG-38867

Fixed

When creating maintenance schedules, the user interface no longer incorrectly displays the selected day of the week as a single digit.

Monitors

WUG-38948
WUG-39215

Fixed

Power supply, fan, and other environmental monitors no longer fail due to changes made to MIB support for WhatsUp Gold 2019.1.

Devices

WUG-39217

Fixed

Devices can now be placed in maintenance mode successfully when the Maintenance Reason field is populated.
Things You Should Know
Important: After upgrading WhatsUp Gold, please restart the WhatsUp Gold server and clear the cache and local storage for browsers on all machines that will access the WhatsUp Gold server.
System Requirements
For more information about what is needed to operate WhatsUp Gold, see System Requirements.