Viewing Performance Real Time
In addition to logs, reports, and built-in dashboards, you can use the Realtime-Performance Monitor (RPM) to visualize device performance, capacity utilization, and network availability on a rolling basis.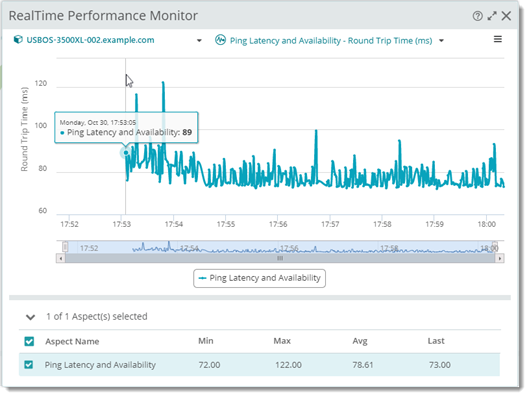 Guidelines for using the RPM monitor
Keep these hints and guidelines in mind when setting up RPM reporting.
RPM leverages a performance monitor. (You cannot use it for WhatsUp Gold passive or active monitors.)
Ensure the relevant performance monitor on the managed device is enabled. (Otherwise, RPM will not be an option for the measurements that monitor provides.)
Active Script, Storage Array, HyperV Host Machine, HyperV Host Event Log are not available for RPM.
Except for the Refresh Interval setting, RPM inherits its configuration from the particular performance monitor running on the managed device.