Check for Active Sources
NTA automatically detects flow sources it can reach and begins collecting flow data. To check to see if NTA is already gathering data from flow sources, open the NTA Sources Library ( menu ). Select a row and then click . This is the quickest route to begin seeing NTA data.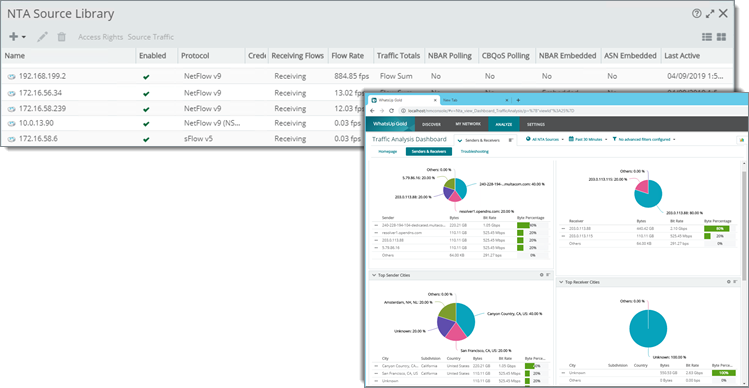 View Current Flow Export Data Already Advertised on Your Network
As soon as Network Traffic Analysis is up and running, WhatsUp Gold begins collecting flow statistics from source devices sending flow packets and populating the flow database, which you can analyze, apply to reports, and share. This procedure envisions that simple scenario.
Open the NTA Sources Library ( menu ).
Look for devices registered both as and packets from the flow exporter.

If you find an active and enabled flow device, select it in the grid and then click the button to the dashboard and reports related to this flow.
If you do not find an active flow source, you need to configure one. See the topic titled Check for Ready-to-Configure Sources.
Next Steps
Explore the dashboard, reports and capabilities of NTA: