Understanding limitations of virtual folders
A virtual folder can be created as a subfolder of the root folder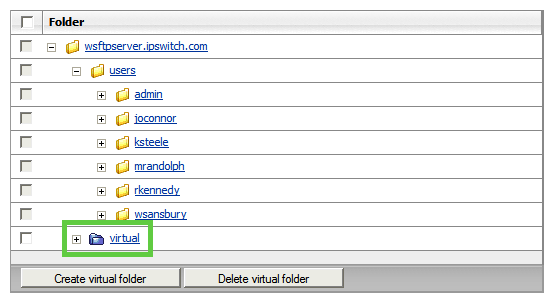 - OR -
as a subfolder of every user's home folder
If a user's home folder is set to a custom location (outside of the /users folder under the top folder of the host), then virtual folders configured to display in a users' home folders are not displayed.
A virtual folder cannot contain another virtual folder. If a file structure is created where one virtual folder could conceivably contain another, the second virtual folder is not displayed.
If the physical folder the virtual folder references is changed or deleted, the virtual folder is still displayed to users, but it cannot be accessed. Users attempting to access a virtual folder that points to a nonexistant physical folder receive the following error message: 550 CWD virtual: access denied.
If you use the WS_FTP Server Web Transfer Module, the physical folder that a virtual folder points to needs to have the WS_FTP Server Web Transfer Module Impersonation User assigned to it, with full permissions (as would be the case with a conventional, physical folder).