NTA Features and Advantages
Network Traffic Analysis (formerly known as "Flow Monitor") returns value at a glance by leveraging traffic flow summaries and statistics data (bandwidth, user, location, protocol, packet, and more) from one or more observation points on your network. NTA provides Network Operation Center (NOC) views, decision support for day-to-day operations, threat incident detection, troubleshooting, forensics, and swift threat attribution capabilities. Combined with WhatsUp Gold Alert Center, NTA offers thresholding rules to trigger notifications or even corrective and contingent actions (when combined with Action Policies which can launch applications, run scripts, and more).
NetFlow, NBAR, CBQoS, SNMP, Alert Center, and More
Network Traffic Analysis uses router-based and interface-level monitoring to capture network traffic patterns and statistics from selected observation points (source devices) throughout your network. Right away, after install, Network Traffic Analysis finds potential sources for gathering router-based flow data (see NTA Quick Start).
: Network Traffic Analysis provides a superset of analysis and monitoring capabilities for what was referred to in earlier versions of WhatsUp Gold as Flow Monitor.
You can view, analyze, and share observed network trends and incident data by way of a suite of reports, logs, and dashboards that provide rich interactive table grid, charting, and graphing capability.
Range of Features and Integration Points Provided by WhatsUp Gold NTA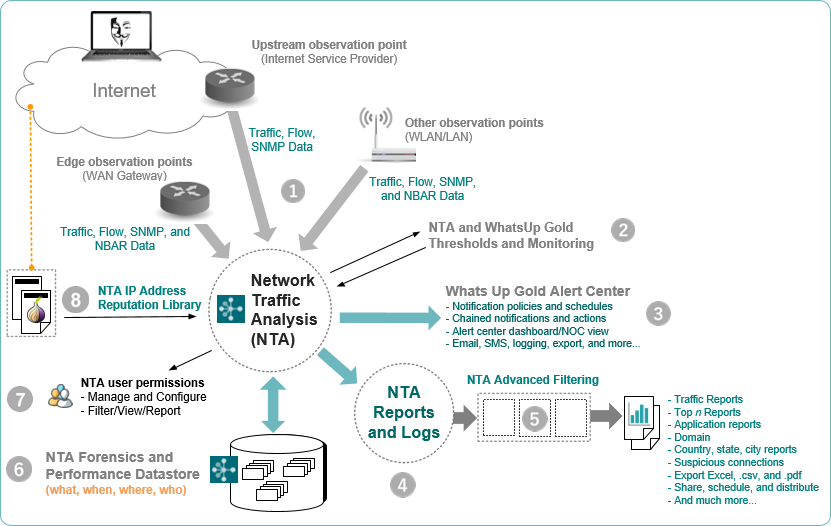 Feature

Description

NTA Sources (network traffic observation points)

: In most cases you will already have NTA Sources advertising NetFlow availability on your network. For these, NetFlow-specific cases, see the section titled Before You Begin.

NTA Sources (such as routers) provide WhatsUp Gold with a summary of incoming/outgoing traffic they see. You need one or more sources before you can see NTA report data, alert on NTA thresholds, and more. You can add sources using the NTA Library.

How to:

WhatsUp Gold thresholds and monitors.

Set up rules to alert you when network or device characteristics exceed or fall below specific values.

Alert Center.

View, filter, and share status information for WhatsUp Gold and Network Traffic Analysis thresholds and monitors currently in use.

Reports, Logs, and Dashboards.

View, analyze, and share observed traffic patterns as well as current and historic network performance data.

Traffic Analysis Dashboard enables you to pivot and drill down into traffic patterns.
Selecting a filter from NTA dashboard on any report applies to all reports for all views.

Reduce, clean, and enhance report data (NTA Advanced Filtering)

Apply powerful data filtering capability built into NTA reports and dashboards to render focused and precise tables, charts, graphs, dashboards, and more.

Filter NTA data based on:

Port.
Protocol.
IP range/CIDR range.
Many other traffic features.

NTA Database.

The NTA Database is your who, what, where, when datastore for historical traffic and forensic data, which you can access with reports, logs, and dashboards.

How to:

Manage user views and access to NTA resources and configuration.

NTA provides access controls for current WhatsUp Gold users that extend the permissions granted with WhatsUp Gold.

Alert when black-listed IP addresses are detected.

How to: