What's new in WS_FTP Professional 12.8
The following new features and improvements were added to WS_FTP Professional 12.8.
Support for additional SSH key exchange (KEX) algorithms
WS_FTP Professional supports the following ECDH SSH KEX algorithms:
ECDH-SHA2-NISTP256
ECDH-SHA2-NISTP384
ECDH-SHA2-NISTP521
For more information, see SSH Algorithms.
Hidden files and folders option
Files and folders that are marked as hidden are only visible if the WS_FTP Professional user explicitly requests that they are visible via the Display option.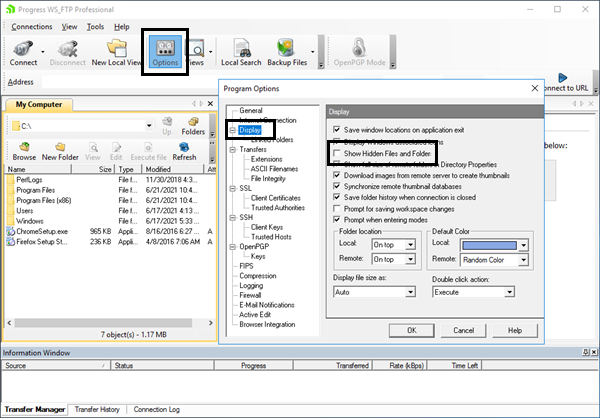 Open source third-party component documentation
Details of the open source third-party components incorporated in WS_FTP Professional are available from the Notices button on the About Progress WS_FTP Professional screen (Help > About).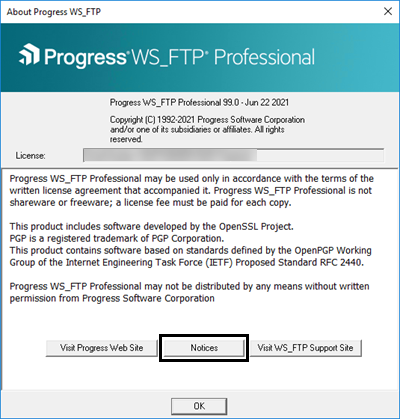 Security enhancements
Security vulnerabilities were addressed and the following update was applied to provide users with enhanced security.
The OpenSSL version was updated from 1.0.2p to 1.0.2y.
Rebranding
The WS_FTP Professional UI and documentation were rebranded as Progress WS_FTP Professional.
Fixed issues
The following issues were fixed in WS_FTP Professional 12.8.
| ID | Category | Fixed Issue |
| --- | --- | --- |
| 5514 | Command Line, Utilities | The scripting utility and command line respect the startup mode when it is set to binary and the site profile is used. |
| 5528 | FTP | The ASCII mode is respected when a script calls a site that forces ASCII mode, and the script is called from the command line. |
System requirements
These requirements apply to the supporting environment and operating system where you install WS_FTP Professional 12.8.
Software
Operating system
Windows Server 2019
Windows Server 2016
Windows Server 2012 R2
Windows 11
Windows 10
Windows 8.1
Hardware
Minimum requirements
1 GHz Processor
1 GB RAM
16 GB, plus 50 MB free disk space during installation
Upgrading
Upgrading to the latest version of WS_FTP Professional ensures that you have access to the latest features, fixes, security updates, and usability improvements.
Upgrade considerations
System requirements
Review the current system requirements prior to upgrading.
Get the installer and activate license
To get a WS_FTP Professional installer package:
Log in to the Progress Community portal and select Product Downloads.
Download the product package and save it to a location on the computer where the upgrade will take place. Ensure that it is a local drive rather than a network or shared drive.
For best performance, right-click the installer and select Run as Administrator.
Complete the installation steps.
After installation, a reboot is required.
To activate the application license, click Start > Progress WS_FTP Professional > Manage WS_FTP Professional License. Click Refresh the current license. To save your changes, click Next, followed by Finish.
Upgrade paths
WS_FTP Professional 12.8 supports direct upgrade (upgrade by way of running the WS_FTP Professional installer) for existing WS_FTP Professional 12.6 and newer.
Use the table below to determine the most efficient upgrade path from your current version to WS_FTP Professional 12.8.
Your version

Upgrade path

WS_FTP Professional 12.6 or later

Download WS_FTP Professional 12.8 from the Progress Community.
Your upgrade activation code is embedded in the installer file, and is automatically used during installation.

WS_FTP Professional 12.5 or earlier

Upgrade to a supported version, such as 12.6 using the 12.6 installer in upgrade mode.
Use the latest installer to upgrade to 12.8.

If your product version is close to or past its sunset or retirement milestones, upgrade to the latest version of WS_FTP Professional. For more information, see the Product Lifecycle page.
Licensees and evaluators
Read the end user license agreement (EULA) before installing or using this product: Progress End User License Agreement
Copyright Notice
© 2021 Progress Software Corporation and/or one of its subsidiaries or affiliates. All rights reserved.
These materials and all Progress® software products are copyrighted and all rights are reserved by Progress Software Corporation. The information in these materials is subject to change without notice, and Progress Software Corporation assumes no responsibility for any errors that may appear therein. The references in these materials to specific platforms supported are subject to change.
Chef, Chef (and design), Chef Infra, Code Can (and design), Compliance at Velocity, Corticon, DataDirect (and design), DataDirect Cloud, DataDirect Connect, DataDirect Connect64, DataDirect XML Converters, DataDirect XQuery, DataRPM, Defrag This, Deliver More Than Expected, DevReach (and design), Icenium, Inspec, Ipswitch, iMacros, Kendo UI, Kinvey, MessageWay, MOVEit, NativeChat, NativeScript, OpenEdge, Powered by Chef, Powered by Progress, Progress, Progress Software Developers Network, SequeLink, Sitefinity (and Design), Sitefinity, Sitefinity (and design), SpeedScript, Stylus Studio, Stylized Design (Arrow/3D Box logo), Styleized Design (C Chef logo), Stylized Design of Samurai, TeamPulse, Telerik, Telerik (and design), Test Studio, WebSpeed, WhatsConfigured, WhatsConnected, WhatsUp, and WS_FTP are registered trademarks of Progress Software Corporation or one of its affiliates or subsidiaries in the U.S. and/or other countries.
Analytics360, AppServer, BusinessEdge, Chef Automate, Chef Compliance, Chef Desktop, Chef Habitat, Chef WorkStation, Corticon.js, Corticon Rules, Data Access, DataDirect Autonomous REST Connector, DataDirect Spy, DevCraft, Fiddler, Fiddler Everywhere, FiddlerCap, FiddlerCore, FiddlerScript, Hybrid Data Pipeline, iMail, JustAssembly, JustDecompile, JustMock, KendoReact, NativeScript Sidekick, OpenAccess, PASOE, Pro2, ProDataSet, Progress Results, Progress Software, ProVision, PSE Pro, Push Jobs, SafeSpaceVR, Sitefinity Cloud, Sitefinity CMS, Sitefinity Digital Experience Cloud, Sitefinity Feather, Sitefinity Insight, Sitefinity Thunder, SmartBrowser, SmartComponent, SmartDataBrowser, SmartDataObjects, SmartDataView, SmartDialog, SmartFolder, SmartFrame, SmartObjects, SmartPanel, SmartQuery, SmartViewer, SmartWindow, Supermarket, SupportLink, Unite UX, and WebClient are trademarks or service marks of Progress Software Corporation and/or its subsidiaries or affiliates in the U.S. and other countries. Java is a registered trademark of Oracle and/or its affiliates. Any other marks contained herein may be trademarks of their respective owners.
This document was published on Tuesday, June 29, 2021 at 10:17