Evaluation Quick Start
: The following topic applies to a feature only available when using an evaluator license during the evaluation period.
The Evaluation Quick Start feature allows you to easily see the power and the value of WhatsUp Gold in moments. By providing some basic information about a few of your available network devices, you can begin a simplified discovery scan and see how the application works with your data right away.
: For the best initial scan, your WhatsUp Gold server should have access to your target devices through ping. The simplified scan uses SNMP or WMI protocols to gather information from target devices, so be sure your devices are configured to respond to these protocols and that you have the login credentials ready.
Step One: Which area of your network would you like to see first?
First, you'll provide WhatsUp Gold with the IP information for the devices you'd like to see. The local subnet is offered by default because those devices are easily accessible from the WhatsUp Gold server. Alternately, you can select the Gateway IP in which case the router or switch will return available information about recently connected devices. Finally, you have the flexibility to manually enter a specific IP address, range of IP addresses, or subnet for WhatsUp Gold to query. Please note, WhatsUp Gold recognizes IP ranges entered as a comma delimited list, a hyphenated range, or in CIDR notation.
Step Two: Add credentials to unlock rich device information
Entering administrator credentials for your network environment is essential to a successful experience with WhatsUp Gold. Using these credentials, the Quick Start simplified scan will discover and add the target devices into the My Network device group tree and begin monitoring the devices for you.
The Quick Start scan is designed to focus on hardware (e.g., routers, switches) as well as Windows clients and servers. The most commonly used protocol for these devices are SNMP and WMI. Beyond this simplified scan, WhatsUp Gold supports a wide variety of credential types and offers a range of options to customize the scan best suited for your network and devices. For additional information on credential types WhatsUp Gold supports, please see Available Credentials.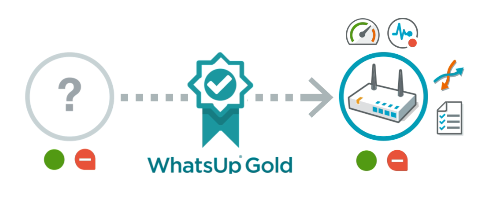 Step Three: Please confirm your email address
Once you've provided valid credentials for discovery to use to find the devices you've specified, you'll be asked to provide your email address. With a valid email address, WhatsUp Gold will be able to notify you of information such as alerts, notification, and updates about your network. If your mail server requires secure authentication, make sure to enable the option(s) to send and receive emails via an encrypted connection using Transport Layer Security protocol and/or to enable Simple Mail Transfer Protocol Authentication which allows an SMTP client to access the mail server of the address provided.
Scan my network
As the interactive quick start guide launches the simplified discovery scan, devices will be added to the map in real time unlike the full discovery scan which allows you to select which discovered devices to monitor when the scan is complete. Additionally, monitors appropriate for the assigned device role will also be applied to these devices automatically. Click Show Me to access the rich data available about your network devices. When the quick start guide is finished, you'll be presented with several videos presenting the extended capabilities of the application.
Please note, while this utility is intended to begin discovering devices as quickly as possible, the full discovery scan feature offers several more powerful options such as the ability to include and exclude IP addresses, upload a list of Host IP addresses, and select options on how the scan should run, for example, dynamically finding additional devices using SNMP data queries and responses.
Troubleshooting
: If WhatsUp Gold does not provide the results you expect, check to see if a firewall exists between WhatsUp Gold and your target devices. If so, make sure the appropriate ports are open to allow WhatsUp Gold to communicate via SNMP and WMI.