Device Status
Device Status dashboard ( menu []) provides a complete system summary and performance survey for a single device.
Click to add a new tab (an empty or preconfigured dashboard "view") to the Device Status dashboard.
Click to access a menu of actions applicable to the current view.
: See Working with Dashboards in WhatsUp Gold to learn about WhatsUp Gold dashboarding capabilities and customization.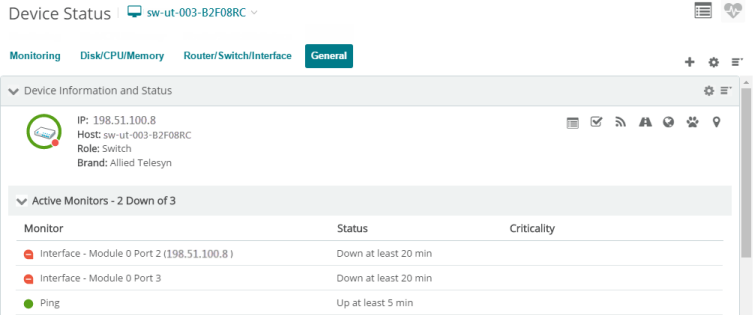 Device Status dashboard includes the following individual dashboard views:

General. Custom and polled system information and links.

Disk/CPU/Memory. Performance, capacity utilization, and availability.

Router/Switch/Interface. Network capacity utilization.

Monitoring. Monitor status, summary, and logs.

Virtualization. Virtual server and associated VM summary, capacity utilization, and availability.

Virtualization Current Utilization. Up to minute (last polled) VM statistics.